Best Washing Machine Repair and Services in Mohali
Are you looking for the best washing machine repair and services in Mohali? We at Flash Services are here to help our valuable customers with our top-notch services.
Today, washing machines have been included in our basic necessity for cleaning and drying clothes. Based on their functional features and structure, these are categorically divided into Fully Automatic and Semi-Automatic machines.
The latter has separate cabinets for drying and cleaning purposes. In contrast, the Fully Automatic machine has the same cabinet for cleaning and drying. Furthermore, the automatic machine is divided into two halves, top load, and front load, having the same working features. Suppose you're struggling with your washing machine irrespective of its type(Fully or Semi-Automatic). In that case, you can reach out to us at +91 95696 22228 or email us at: info@flashservices.in to serve yourself with the best washing machine repair and services in Mohali.
We have an expert machine mechanic who will better serve you at your doorsteps to repair your flawed machine within 24 hours, as the name suggests. We have expertise in providing remarkable features under your pocket-friendly budget.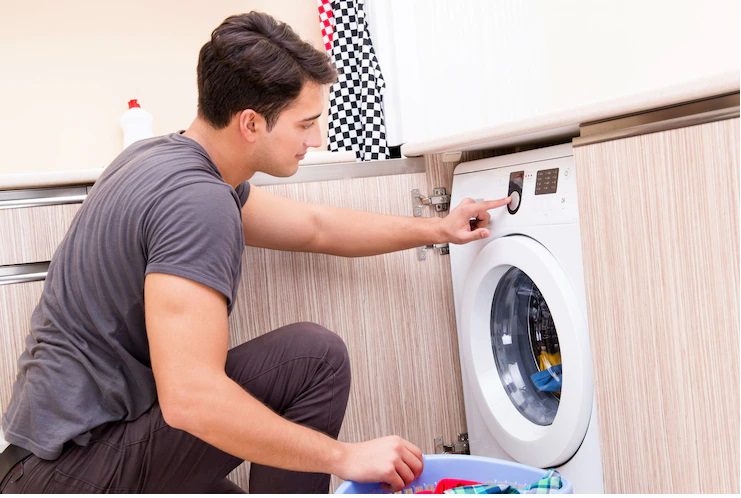 Outstanding Features
Let's look into some of our excellent features to gaze you out in the middle:
1. Top Load Washing Machine Repair
Flash Services provides top washing machine repair services for fully automatic top-load washing machines. You need to fill out the form available on our official website to get a quick response from our team. We will offer you the best in class and skilled technicians to reconstruct it. Our mechanic will come according to your scheduled time to your doorstep.
2. Front Load Washing Machine Repair
Need not worry, we are here to provide you with the best service partners for repairing front-load washing machines. Our experienced and highly-dedicated mechanics will assist you at your doorstep much faster and with the utmost ease.
3. Semi-Automatic Washing Machine Repair
Look out for Semi-automatic washing machine repair near me. To reach us, call us at +91 95696 22228 or fill out a form, and our representative will assist you. 
4. Fully-Automatic Washing Machine Repair
Flash Services offers the most reliable and fastest services to its valuable customers. If you're facing any problem with your product, call us at +91 95696 22228, so that we can resolve your worries and help you with our top-class deals.
We are experts in sensor & draining problems and noise & spinning-related problems to provide our customers with the classy services they deserve.
We Provide Solutions to Your Common Issues
With Flash Services, you'll quickly find solutions to your common issues related to washing machine repair and services in Mohali. The sooner you observe and rectify the issue, the less likely the damage will be.
Let's look into some common issues for which we will guide you best.
Contact our technician if you come across any issues like:
1. Spinning Problem
Various causes for no agitation include agitator assembly, transmission mode lever, worn drive belt, or drive spindle. It might be due to a poor lid switch, internal timer contact, or malfunctioning pressure switch.
2. Water Drainage Problem
If there's a defect in the pump, clogged drain nose, or worn drive belt, water will remain in the drum. When it properly drains, it could create a problem. Thus, we recommend you go to the washing machine mechanic near me and fix the issue.
3. The Washing Machine is Not Turning on.
This problem is usually caused by an off-balance or tripped switch from an imbalanced load that can be solved easily by redistributing clothes. Otherwise, you may have an issue with the timer, which our experts can take care of.